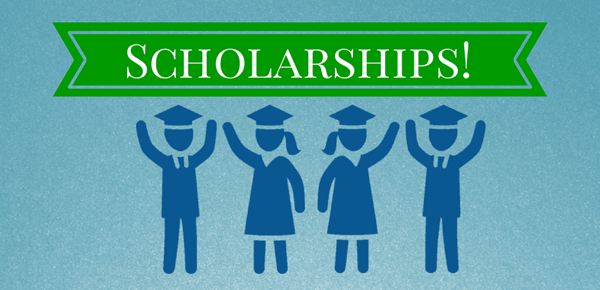 NICHE NO ESSAY CONTEST
Application: https://www.niche.com/colleges/scholarship/no-essay-scholarship/ 
Deadline: The end of every month
Criteria: Has to create an account, no other eligibility required
Award: $2,000
UTAH ENERGY WORKFORCE SCHOLARSHIP (Seniors)
Application: Utah Energy Workforce Scholarship
Deadline: May 1, 2019
Criteria:
-Must be currently a 12th grade student attending a public or private school
-Students must certify their intent to pursue a STEM course of study at a public or private institution of higher learning, either a college or technical school. (students that want to attend Tooele Tech do qualify)
-Make a five minute film on energy and write an essay about your STEM goals.
-Award: Five awards of $4,000 for students attending a Utah College or University
-Award: Five $2,000 for students attending a Utah technical college
AYN RAND'S ANTHEM ESSAY CONTEST (8th, 9th, and 10th graders)
Application: https://www.aynrand.org/students/essay-contests
Deadline:  May 1, 2018
Criteria:
-Write a 600-1,200 word essay on novelist Ayn Rand's Anthem.
Award:  $30-$2,000 (236 awards)
MILNE SCHOLARSHIP (Seniors)
Application: Milne Scholarship 2018
Deadline: May 4, 2018
Criteria:
-Senior at Tooele High School
-Minimum 3.0 GPA
-Accepted to a post-secondary institution either college or technical school
-Overcome or still coping with adversity
-Plan to work while completing a post-secondary education
Award: $500-$1,000
TOOELE COUNTY DAIRY PRINCESS/AMBASSADOR SCHOLARSHIP (Girls, Juniors to Age 24)
Application:
Deadline:  May 24, 2018
Criteria:
-Must be at least a junior (2017-2018) at a Tooele County school.
-3.0 GPA.
-Willing to travel throughout the Tooele County area promoting the Utah Dairy Commission and leading a healthy lifestyle.
Award:  $1,000 to Princess/Ambassador (2), $500 to Attendants (2)
SLCC: NATIVE AMERICAN EVENT TUITION WAIVER SCHOLARSHIP (Seniors)
Application:
Deadline:  TBD
Criteria:
-Must have attended the Native American Conference at SLCC last fall (2017).
-Be a Utah resident and U. S. citizen, or have valid evidence of permanent residency in the U.S. (permanent resident card or A#).
-You must not have taken any college classes other than concurrent enrollment.
-Be a high school graduate.
-Provide a high school transcript showing a minimum cumulative 2.5 GPA.
-Apply for admission to SLCC. Concurrent enrollment students are already admitted and do not need to reapply.
-Select an eligible major and program. (See the SLCC website for an up-to-date list of eligible majors and programs.
-Application, letter of recommendation, one-page essay.
Award:  This tuition waiver will cover approximately $3,000 tuition for fall and spring semesters of 2018-2019.
MISS TOOELE CITY (16-24)
Application: www.tooelecity.org listed under "Our Community" 
Deadline: May 29, 2018
Criteria:
-Is a positive and professional representative for Tooele City
-Is a good role model for youth in our community
-Is proud of Tooele and eager to promote our community as a great place to work, play and live.
-Exhibits patriotism
-Is mature responsible, dependable, positive, professional, fun, outgoing, approachable, has charm, is poised and is able to put a smile on others faces.
-Can meet a demanding schedule during our 4th of July celebration and festivities, and is reasonably available throughout the year to represent the City at various other community events.
-Can meet the public and is comfortable mingling with others in our diverse community
-Can speak extemporaneously
-Is an intelligent person who understand patriotism, community and civic responsibility and is cooperative and will work with the pageant and Tooele City for the good of the program.
Award: varies
LM SCHOLARSHIP PROGRAM (Seniors)
Application: http://forkliftcertificationsurrey.com/certifications.php
Deadline:  May 31, 2018
Criteria:
-Must be currently enrolled or expect to be enrolled in a degree program by September.
-Must have a GPA of 3.0 or higher and submit an answer to the essay question.
Award:  $500 (1 award)
SUSSLE SCHOLARSHIP (Seniors)
Application:  www.sussle.org/scholarship
Deadline:  Monthly awards
Criteria:
-Contribute content by topic to Sussle.
-Large variety of topics, for example:  fashion, Disney Princess, Oreo. Harry Potter, ice cream, Doctor Who, Spanish language, Innovation…and many other fun and current topics.
Award:  Up to $1,000; other lesser cash awards
SCHOLARSHIP WEBSITES:
Unigo.com
www.highfivescholarships.com
www.fastweb.com
www.cappex.com
www.scholarships.com
www.zinch.com